Our Origins
The earliest origins of today's club can be found in the establishment of Lillington Mixed Hockey Club on January 23rd, 1897. After a break for the Great War, this was reformed as Lillington Ladies Hockey Club which is the genesis of today's Women's section.

The Men's section was founded in 1920 and was originally based in Leamington, starting life as a works team and using the facilities at Lockheed.
Lillington Ladies used a variety of grounds until 1930 when they moved to the Kingsley School (formerly Leamington High School). Incidentally Lillington Ladies' Diamond Jubilee tournament was held in 1957 at the Lockheed facilities.
By the early 1970s, the Men's club was seeking a more secure future and moved to its current base at Warwick Sports Club on the Hampton Road in Warwick. There followed over twenty years of grass hockey and a popular annual end of season festival, which attracted teams from far and wide. With the advent of artificial pitches the festival's appeal declined. Men's team photos up to 1989.
During this time Lillington Ladies went from strength to strength and represented Warwickshire in the Midlands Clubs Championship three times from its inception in 1969. The Club's 90th Jubilee was held at the Kingsley School on 26th March 1989, read more.
In 1989 Lillington Ladies moved to Leamington Cricket Club,
Our Recent History
In 1992 Lillington Ladies amalgamated with the Men of Warwick Hockey Club to form the basis of today's Club. Initially the Women's section became Lillington Warwick Ladies' Hockey Club.
The men's section continued to prosper during the 1990's and in the season of 1995/6 enjoyed an historic HA Cup run reaching the last 16, see article here.
In 1997 the Ladies celebrated their centenary, see centenary pictures and press cuttings here.
Following the centenary celebration in 1997, the Lillington name was dropped and Warwick Hockey Club took on its present day form.
Refurbishment of The Pavilion
The Pavilion as you can see it today, was refurbished in 2012 and re-opened in October.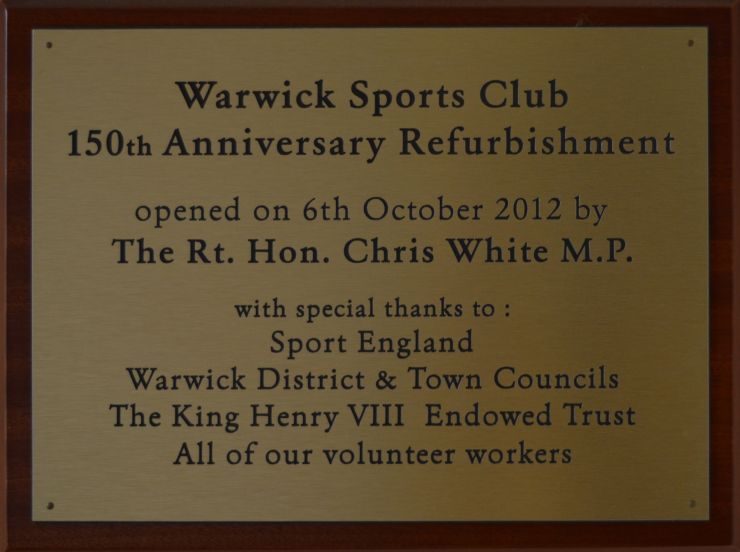 The Pavilion Clock
The clock which is fixed high in front of the pavilion at the Hampton Road ground of Warwick has already seen quite a full share of cricket during its life span. For 65 years, the clock had pride of place at The County Ground, Edgbaston and was a gift to the Warwick Cricket Club when it was formed in 1960.