1920 to 2020
We marked our centenary as 100 Seasons in 2021-22 culimnating in our celebrations over 17th and 18th June 2022.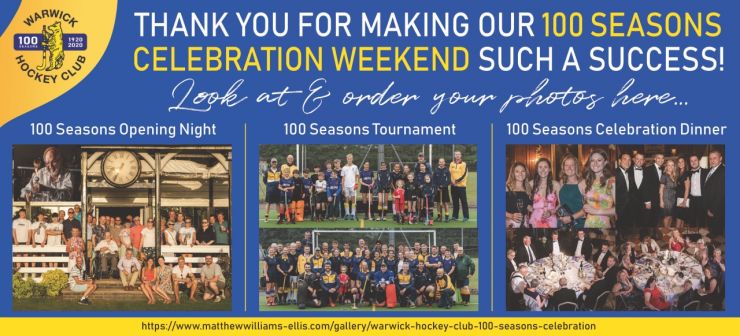 https://www.matthewwilliams-ellis.com/gallery/warwick-hockey-club-100-seasons-celebration
Proud to be Warwick Hockey Club
We proved to ourselves and many clubs around the Midlands that we are rightly proud of our history, the way the club is developing and can be confident in going forward into our next 100 Seasons!
Throughout the season our captains handed out pennants to our opposition to share our celebration with those we enjoy playing our sport with. You can read more about our pennants and photos of our captians sharing here: 100 Seasons Pennants.
---
100 Seasons Opening Night
On 17th June, at our clubhouse, we enjoyed a relaxed social to start our celebrations. A curry and drink was enjoyed by current members, past players and friends of our club catching up and recounting old stories and happy memories.
We also took this as our opportunity to recognise one of our longest ever serving members, Phil Hellis, with a Lifetime Achievement award. You can read our 100 Seasons Opening Night news artcile here.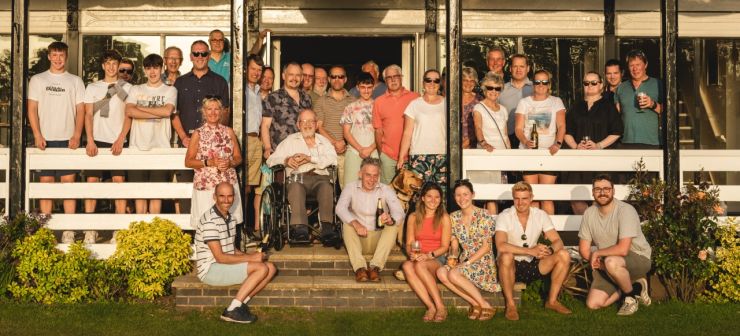 ---
100 Seasons Tournament
Well it wouldn't be right to play hockey would it? So we held a fun mixed tournament to enjoy the sport we love. Our Juniors kicked off the tournament showing off the future talent of our club, the future looks great! Our Seniors then played their tournament in great spirit and an edge of competitiveness of course. You can see pictures and read more of our 100 Seasons Tornament here.

---
100 Seasons Dinner
The highlight of our celebrations was our dinner at Warwick Castle, where else could it have been! A fantastic evening with 120 members and past members gathering in the grand hall of Warwick Castle. A fitting way to mark the conclusion of our celebrations. You can see photos and read more about our 100 Seasons Celebration Dinner here.

Nick Herd produced a superb booklet for the dinner, kindly printed by Emmerson Press. You can download a copy here. A few sample pages below.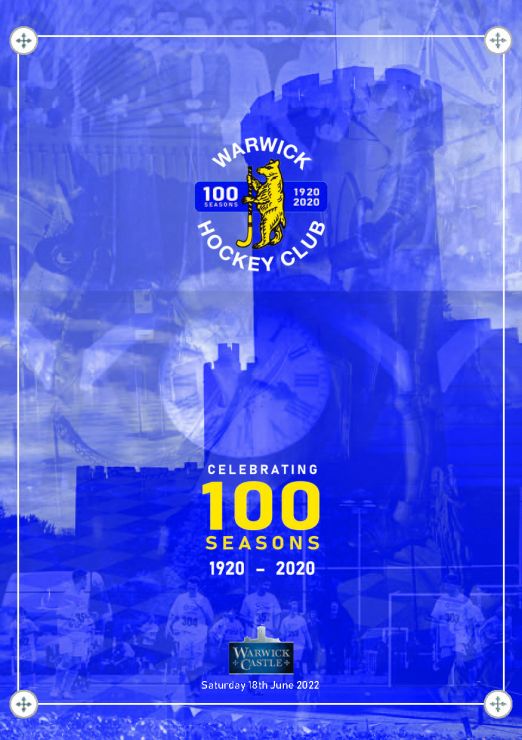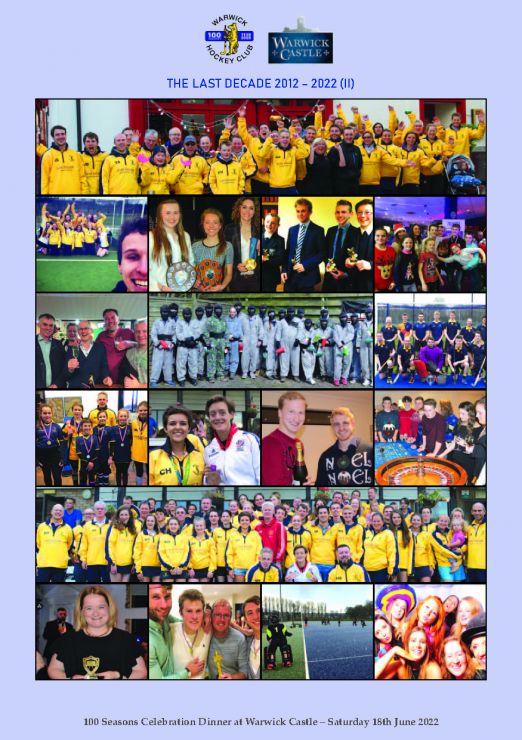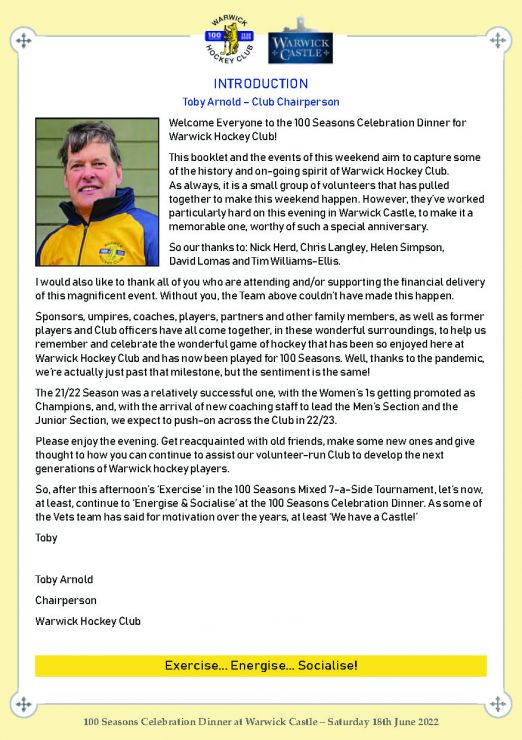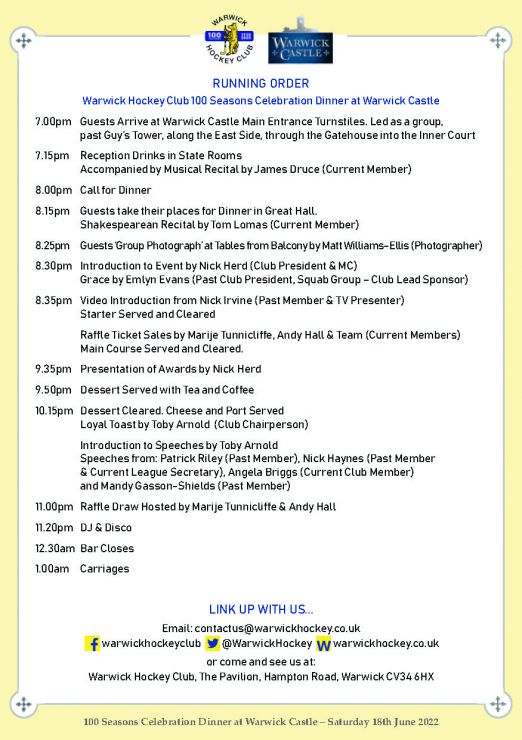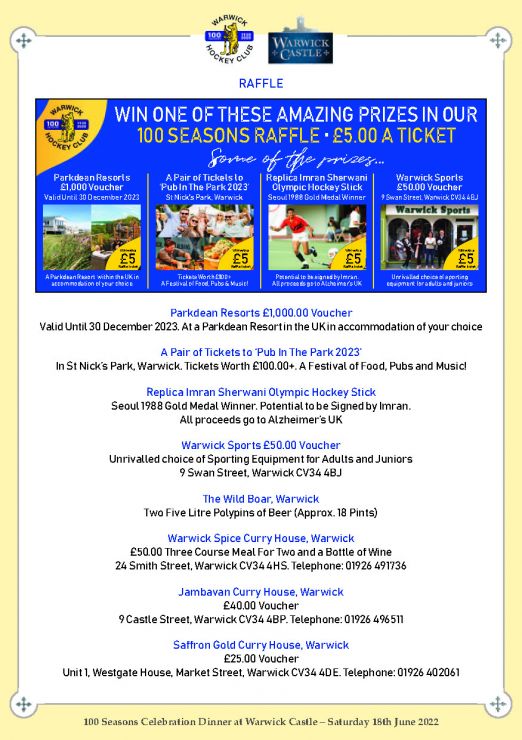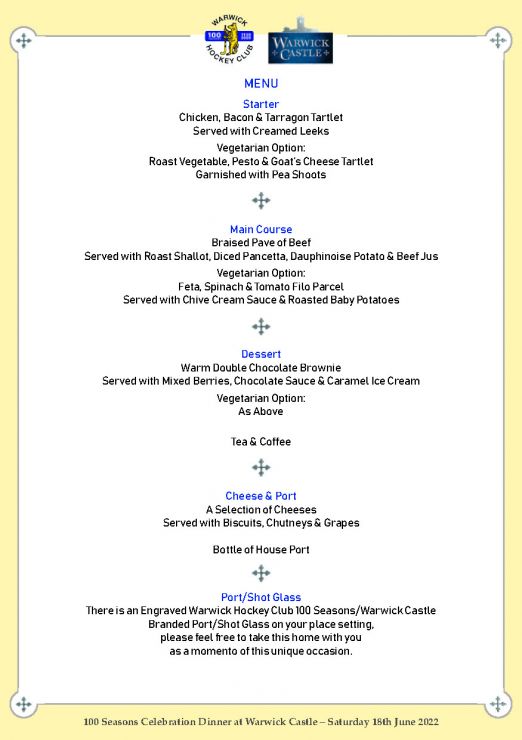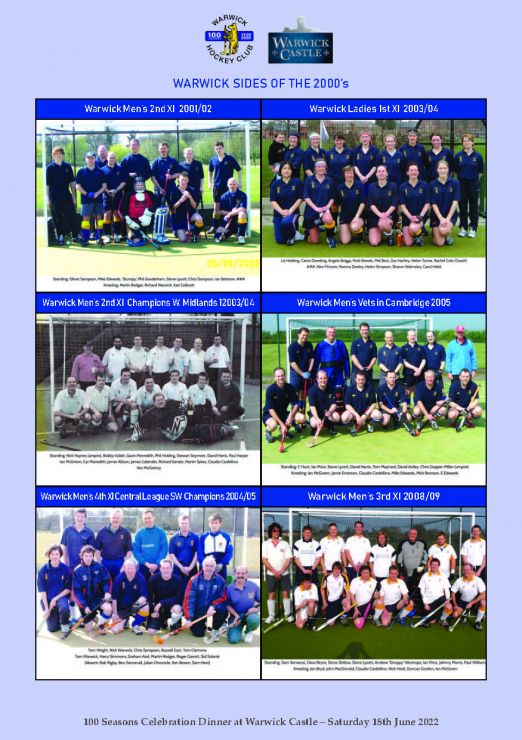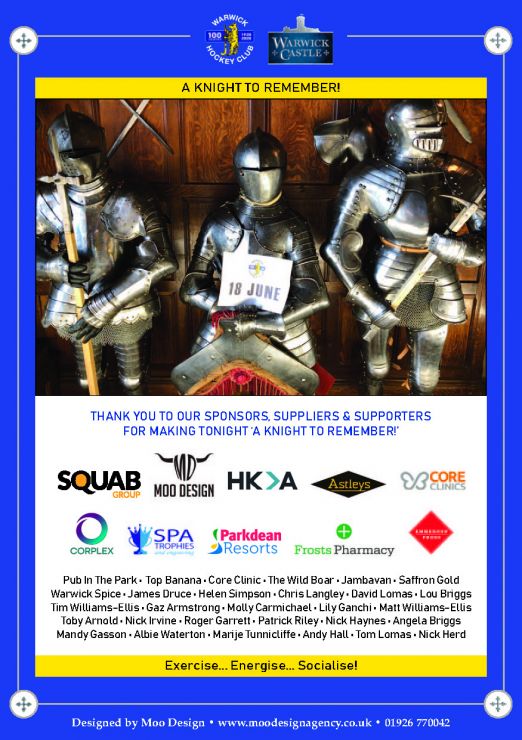 100 Seasons Raffle
Across the celebration events we sold tickets for our superb raffle. Our thanks to all those that supported us with wonderful prizes. We raised valuable funds for the club, which will be used to develop our support for training and coaching options to be even more inclusive.
Among our raffle prizes we were gifted (by Jay Nagra, hockey friend of Chris Langley) a replica Grays hockey stick produced in recognition of Imran Sherwani, a member of the GB Olympic Gold Medal team from Seoul 1988. Imran was one of the select invitational team that came to Warwick to open the astro at St Nics, you can read about that event in our History here. Imran has recently started to suffer with Alzheimers, so we decided to donate some of the raffle money towards Alzheimers Research in support of the cause that Imran and the hocket community are also supporting. You can read our news article here.
---