Don't miss out on joining us for our social events
---
Socials for 2021/22 Season
Socials are a big part of what Warwick Hockey Club is all about!
Please contact our social secs Lauren, Izzy, Phil & Gaz if you have any suggestions or keen to get involved
Next up
Wine tasting and auction of promises
On Saturday 12th March, we will be hosting a wine tasting & Auction of Promises at the Warwick Arms Hotel at 7pm. (See flyer below).
We have had many members and local businesses donate towards our auction- so firstly a big a thank you to everyone who has helped us put this show on the road!
A sneak preview of some of the auction lots up for grabs are; a weeks stays in a holiday home, tickets to the theatre, signed sporting memorabilia, family guest passes and everything in between! Watch this space for our webpage going live which you will be able to view all confirmed lots and place bids if you are unable to attend the evening.
This event is open to all members & their friends and families, so please help us spread the word.
Wine Poole, an independent wine merchant in Warwick, are hosting our wine tasting at the start of the evening. So come along to taste samples of their favourite picks and learn all about the art of wine! Tickets for the 5-wine tasting are £10pp for (18yrs+).
Between Phil, Gaz, Lauren & Izzy, we will be around at training sessions to sell tickets (card machine or cash). Alternatively, you can purchase your tickets via bank transfer (contact social@warwickhockey.co.uk for details)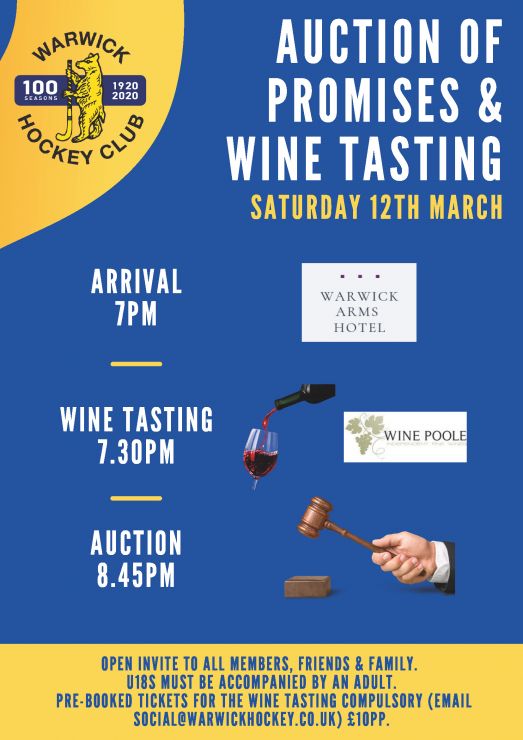 ---
End of Season Dinner - save the date 2nd April
Always a highlight! Glamour, awards, dancing and with your best hockey mates!
More details to follow!
---
Centenary Celebrations
We are planning fun, social and formal events across the evening of Friday 17th and through Saturday 18th, culminating in a formal dinner and dance at a special venue. Reserve the dates amd watch out for more details to follow.
---