COVID-19 requires us to follow a controlled approach to returning to playing hockey
WHC return to hockey plan
We WILL be returning to the astro on the 29th in line with government guidance that all outdoor sports and activities can restart from then. Please bear in mind that this is all dependant on numbers and uptake, so please keep an eye out on all your team chats and conversation threads for any day-to-day, session-to-session updates and news:
St. Nicks on Mondays
29th March: Mens Senior training, 8.25pm-9.15pm followed by Ladies Senior training, 9.15pm-10.00pm
12th April: Mens Senior training, 8.25pm-10.00pm
19th April: Ladies Senior training, 8.25pm-10.00pm
Ayelsford School on weekends
Saturday 10th, 17th, 24th April: Intraclub Mixed games, 12.15pm-5.00pm
Sunday 11th, 18th, 25th April: Junior training, 10.30am-12.30pm
As you can see, we are back to our St. Nicks and Ayelsford pitches from the 29th, we do hope to return to Warwick pitches and we will be in contact with the school with plans to do so when they permit it. Monday nights are training for Seniors, Sundays are training for Juniors, and Saturdays will be a big afternoon of completely mixed (age and gender) Senior intraclub matches. Just to reiterate, when we say Senior, we do include any Juniors 13+ who are capable of playing Senior level. If you are unsure at all, just drop Dave Lomas a message. If you would like to take part in these, what I can only expect will be pretty fun packed afternoons, please SIGN UP using the google form available to club members, you have until the 31st March to do so!
If you have any COVID related safety questions please contact our COVID-19 Officer, Rachel Cross who is working closely with our committee to ensure we can safely get back to training and playing hockey.
We are making our plans following England Hockey guidance. Please watch this England Hockey video, visit the England Hockey guidance pages on their website and follow their guidance to get yourself ready.
Make sure you have registered with England Hockey before you join one of our hockey sessions.
We are planning to get started with training sessions, keep an eye on our training page for details.
We are also hoping to arrange some local friendlies in line with the England Hockey guidelines.
You can contact Rachel by email at covid19@warwickhockey.co.uk.

Rachel has produced these quick guides to help you understand the key points you must be aware of as appropriate to your involvement.
---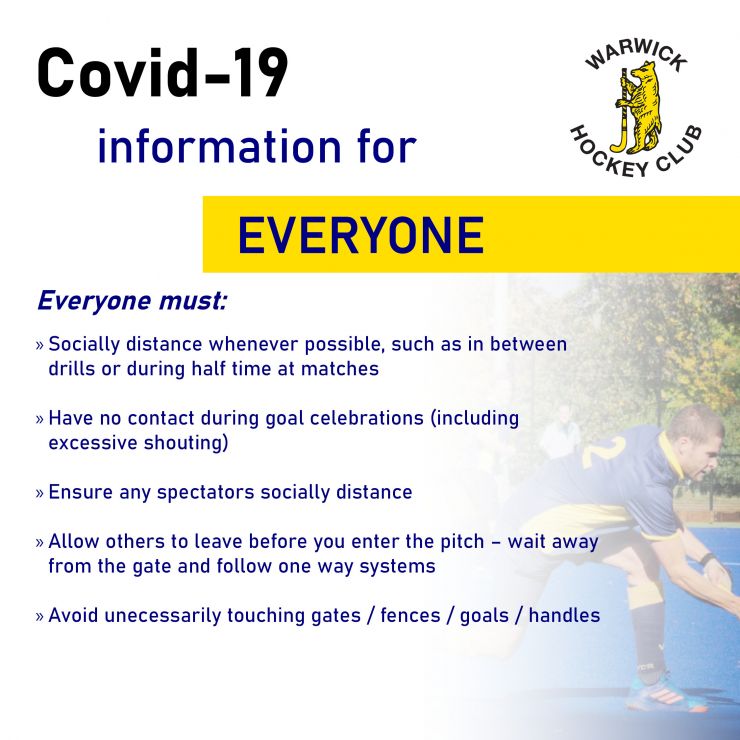 ---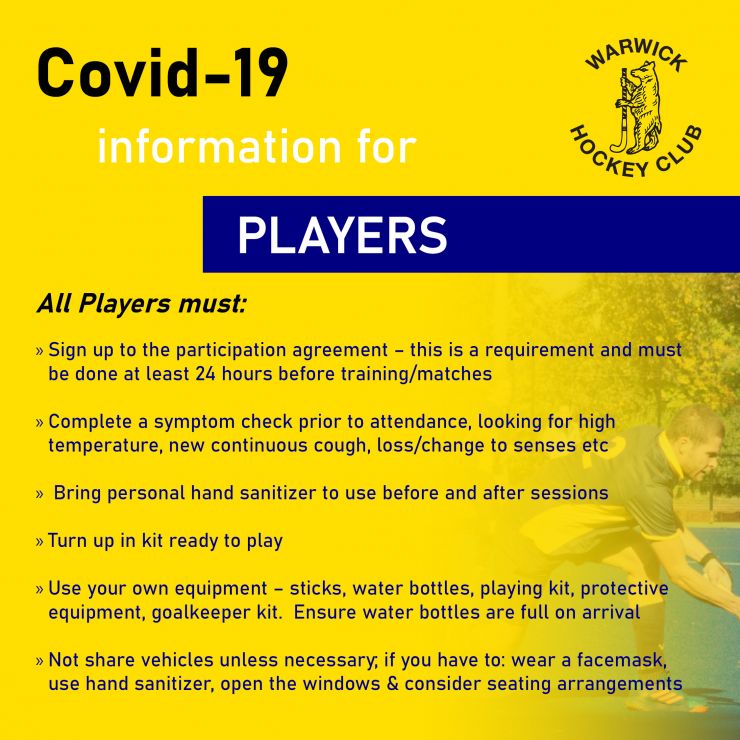 ---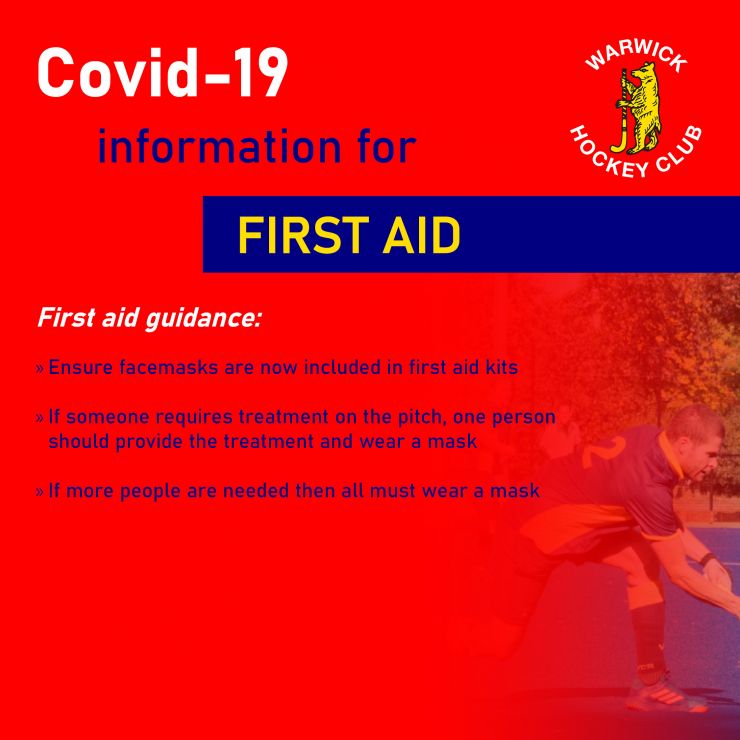 ---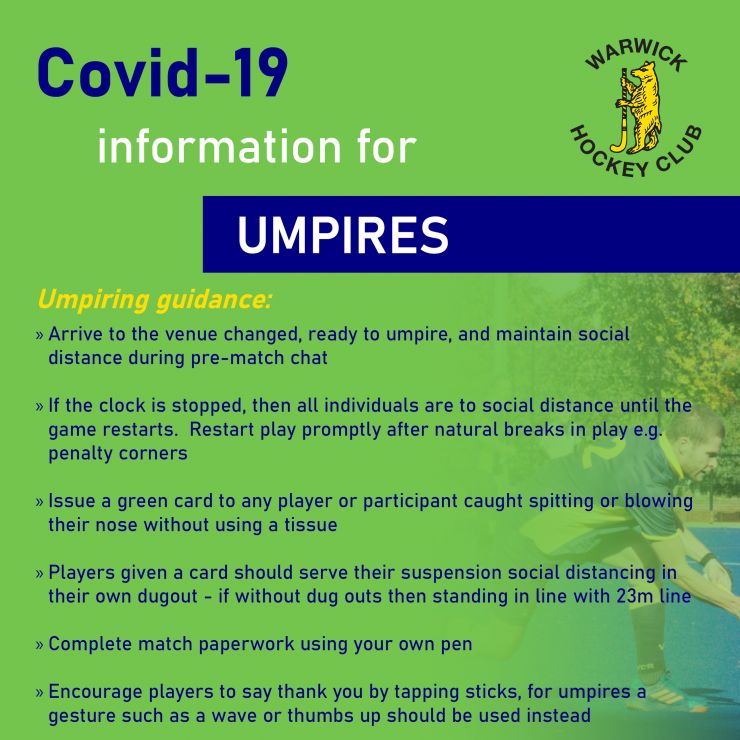 ---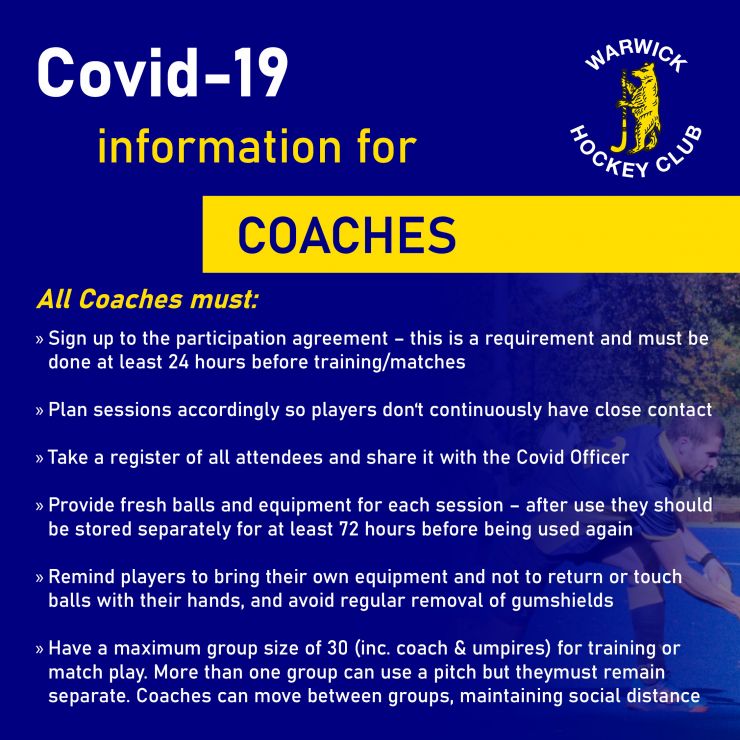 ---
Below is a copy of the England Hockey poster - key facts.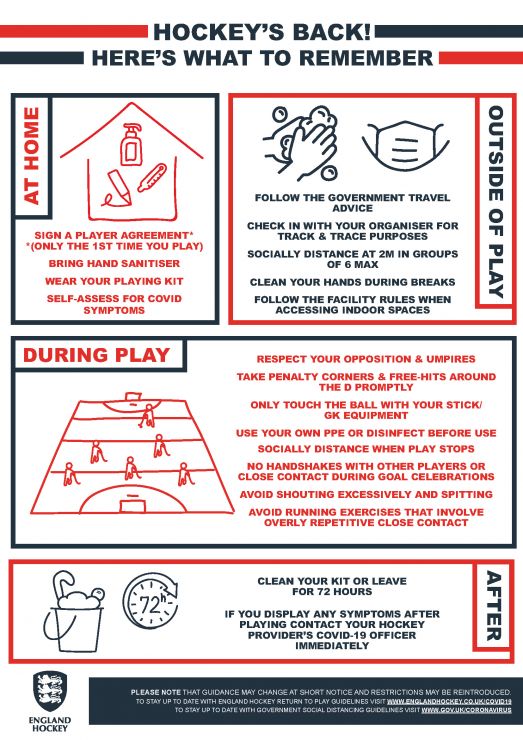 ##