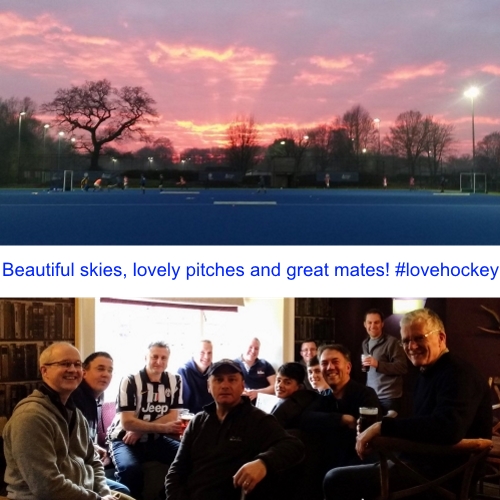 29/01/17: HOCKEY ROUND UP
---
11 games scheduled - how did we fair?
Firstly thank you to our volunteer umpires:
Ian MacDonald, Angela Briggs, Andy Griffin, Richard Marsh, Toby Arnold, Marije Tunnicliffe, Lynsey Archer, John Carder, Nick Herd and Liz Holding.
Mens Vets vs Worcester (H)

Match cancelled.
Badgers vs Leamington (H)

Proud Andy Griffin reports "Local derby against Leamington. Another solid performance and a 5-1 win".

Mens 1st vs Burton (A)
Seb sends in "3-2 win for the 1s but we made the it hard work! 2 goals for Martyn and 1 for Aile".
Mens 2nd vs Bournville (H)
Lost 3-4. Letting in 3 goals before Warwick got going made this a tough ask, but hard work got them close!
Mens 3rd vs Boots (A)
Langers writes "It seems 11 players is enough to put on a superb performance! The Boots side started strongly but the quality of Warwick's play and absolutely clinical finishing turned the game into a demolition 7-1 result. Nick Baker got 3 from 3 short corners, Dan Kingman got 2 (first for the club), David Harris scored and James Allison pulled off the most audacious flick lob for his goal. Great to be playing again!" #lovehockey
Mens 4th vs Harborne 5 (H)
Nick reports "Warwick 4s battled back from being 2-0 down at HT to lead 3-2, only to let it slip again in the final 5, going down 4-3. MotM to Dave Morton for battling hard on the pitch and then serving the beers in the clubhouse after!"
Mens 5th vs Northampton Saints 6 (A)

Claudio sends in "5th Team Report. Goals from Will Astley and Steve McCarty wasn't enough to take something back from Northampton, yet again the 5th team stumble in deepest darkest Northamptonshire and come away with a 3-2 defeat . We gave the Garden centre teas a miss and the squad headed off for the nearest pub to lift our spirits".
Womens 2nd vs University of Warwick Women's 1sts (A)

1-1 draw is a good result against a team in the top half of the league. Angela is chuffed with a "very solid defensive display".
Womens 3rd vs Nuneaton Ladies 2nd XI (H)

Lost 0-3.
Womens 4th vs Atherstone Ladies 2nd XI (H)

Andy Griffin says "Lost a close game 1-2".
Mixed vs Wooton Wanderers. (A)

Awaiting result.