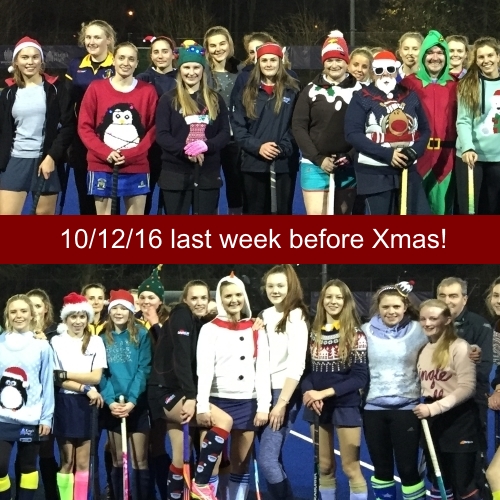 10/12/16: HOCKEY ROUND UP
---
Nine matches from Monday to Saturday
Mens Vets vs Hampton in Arden (H)

Happy Cap'n Claudio writes "9-3 win .With John Kane scoring 4 and Ajan got 2 on his Veterans debut .. Holding, Astley and Williams hitting the net as well ... An emphatic victory!"
Badgers vs Berkswell & Balsall Common (A)

Result to follow
Mens 1st vs Warwick University (A)

Seb reports "Last play of the game goal from Bryce secures 4-3 win for the 1s against the Uni and sees them comfortably in 5th."

Womens 2nd vs Leamington Ladies 2nd XI (H)

A well earned 1-1 draw to 5th in the league.
Mens 2nd vs North Staffs (H)

Balf's sends in "A comfortable 3-0 victory against North Stafford puts Warwick 2s in 4th position at the halfway stage".
Womens 3rd vs Leamington Ladies 3rd XI (H)

Liz writes "All we want for Christmas is a win!" ... and so it was. A terrific first win of the season 4-3, well done ladies!
Mens 3rd vs Northampton Saints (A)

Langers reports "Northampton proved to be much tougher opponents than their bottom of the league position suggested, in a somewhat physical encounter. Short corner drag flicks from Nick Baker and Chris Langley weren't enough as we lost out 3-2"
Womens 4th vs Edgbaston Ladies 4th XI (H)

Our ladies lose out 0-3 to strong opponents.
Mens 4th vs Edgbaston 4 (H)

Nick writes "4s welcome James Allison back into the side with his brace helping to win a well earned point against second-placed Edgbaston."