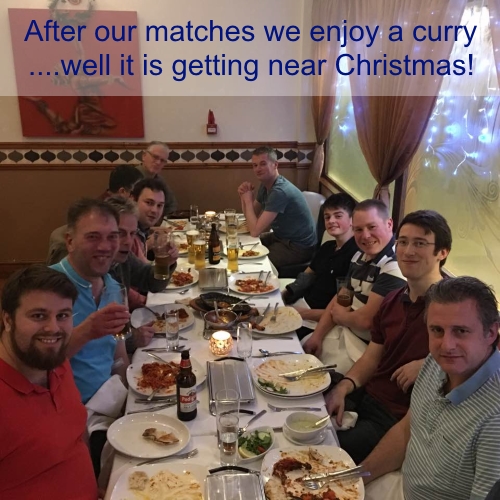 04/12/16: Hockey round up
---
Ten matches from Monday to Saturday
and it seems 3 is a common number for many of our teams this week, but not always popular!
Mens Vets vs Solihull Blossomfield (A)

Match postponed due to frozen pitch!
Badgers vs Rugby & EW Gold (H)
Andy reports "Another good performance and a good win for our Badgers against Rugby. Game was played in an excellent spirit with no shortage of skill on display from both sides. Warwick ran out 4-3 winners with goals from Harry Stone (2), Harry Menashe and Imogen Griffin".
Mens 1st vs Barton (H)
A frustrated Seb writes in "1s let 3-0 lead slip as late goals lose us 2 points, cards cost us again, although it felt like the Umpires did us no favours!".
Mens 2nd vs Worcester (A)

Balfs sends in "Warwick 2s had a difficult game against Worcester but performed admirably in a narrow 3-2 loss. MOTM to John MacDonald for scoring the two goals.."

Womens 2nd vs Long Buckby Ladies 1sts (A)

Ange reports "Warwick took a while.to settle on a slippery pitch going down to 2 early goals. Found some consistency and fought back playing good hockey game finished 3 - 1".
Mens 3rd vs Worcester (H)
Langers reports "Some late drop outs due to illness didn't stop Warwick 3s from continuing to play some good hockey. Worcester started strongly getting an early goal but we stuck at it and gradually started to get some attacking possession proving that Worcester defence could be breached. JK scored Warwick's first with a little slice of luck as his reverse stick cross took a deflection off a Worcester stick to beat the keeper. Warwick's second came from a quick witted lob by JK over a defender and the ball bounced to Wes who smashed a volley high past the stranded keeper. A contender for goal of the season that one! Worcester pressed hard in the second half earning a number of corners and Mike Howard in goal was in fine form to deny most shots but eventually a break away attack beat Warwick's defensive line and a rebound was scored making it 2-2 at half time. The second half was tense with both sides finding clear chances difficult to come by. After an excellent run by POTM Dan Kingman, JK eventually broke the deadlock with a well executed short corner drag flick earning Warwick 3 points and climbing into 2nd place in the league!!!"
Womens 3rd vs Birmingham Wasps Ladies 1st XI (A)
Our ladies lose out 3-2
Mens 4th vs Worcester 4 (A)
A slightly disappointed Nick writes "Warwick 4s came back with a point from their second trip to Worcester this season although it could have been more having dominated most of the game. Goals came from John Sawdon, Rob Bligh and Dave Morton.."
Womens 4th vs Old Silhillians Ladies 2nd XI (H)
Sharon sends in "Lost 4-3 in the last minute after dominating the entire game. Early goals from Warwick gave the girls a positive game."
Mens 5th vs Coalville 4 (H)
Claudio reports "5th team produced a good first half performance against Rugby , 3 -0 through goals by Josh Cooper and a couple by Steve Lycett ( Jug Avoidance) , The second half was more even and Rugby scored a couple of late goals".