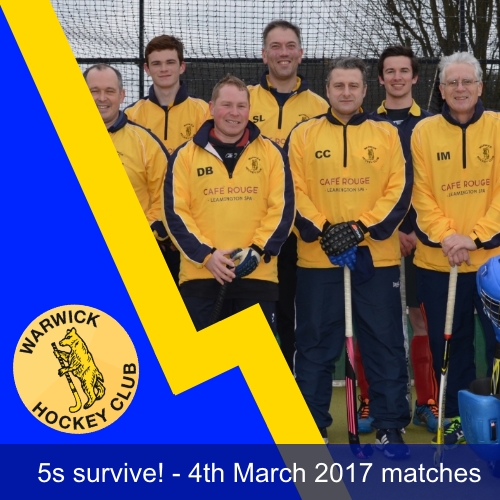 04/03/17 - MATCH NEWS
---
10 games scheduled this week
Firstly, Umpires: thank you!
This week our volunteer umpires were, Ian MacDonald, Chris Waller, Phil Foster, Chris Duppa-Miller, Nick Herd, Dave Bryce, John Carder, Toby Arnold, Lynsey Archer and our super umpire coordinator Marije Tunnicliffe. Much appreciated, without out you we cannot play hockey.
This season's end is in sight, how did we do this week?
Mens Vets vs Pershore (A)

Claudio's epsitle: "Due to the Caretaker/key holder not opening the astro and switching on the lights at An Evesham school the match was played under the hockey equivalent of the Duckworth-Lewis calculation and the Warwick veterans lost in a shortened match of 50 minutes against Pershore 2-1..At least we got a jug of beer and sausage and chips !"
Badgers vs rugby & EW Gold (A)

Andy writes "Badgers recorded a 3-2 win against Rugby, with goals from Harry Stone, Harry Menashe and Tom Lomas".
Mens 1st vs Edgbaston (H)

Seb sends in "1s draw 3-3. Battle back from 2 down to 3-2 up with a Stickley hatrick. Good game and draw probably fair." Currently in 5th with 2 games to go against 1st and 3rd in table.
Mens 3rd vs Shrewsbury (A)
Langers writes "It is a long road trip to Shrewsbury so it was important to make it worthwhile by earning a win, 2-0 job done!. Makes the drive home much nicer. A much changed side from last week, which showed at times through some misplaced passes, but our pace and individual skills gave us enough chances, we could have scored many more. Loughborough got a draw this week so are 1 point ahead of us, with Warwick Uni 4 points ahead having played one extra game. Interesting times with 3 games to go!"
Mens 4th vs Harborne 4 (H)

Nick sends in"Dan informed me: 4s match v Harborne was 1 all, could have gone either way!" Claudio adds "I watched most of the 4ths match with a bit more belief they could have won it". 6th in the table but only 2 points from safety... all very close with 3 games to go.
Mens 5th vs Northampton Saints 5 (H)
Claudio reports "Warwick 5ths 5 Northampton 5ths 2 . Warwick took a step closer to survival and barring some odd results next weekend they should be safe. 5 excellent goals with David Bray's hammer shot the best , the other goals were from possession hockey ,something that has been lacking in recent weeks"....No wait... some more results are in..."Change my report 5th are now safe after Leicester Westleigh were docked points for forfeiting a match". Well done 5s! Relax and enjoy your last game next weekend.

Womens 1st vs Boots Ladies II (H)

Drew 2-2 - awaiting match report.
Womens 2nd vs University of Birmingham Women's 4th (H)
Lost 0-3 - awaiting match report.
Womens 3rd vs Rugby and East Warwickshire Second (A)

Hannah reports "Another great performance from the Ladies 3s against Rugby and East Warwickshire. An exciting game with a penalty stroke hitting the post, several falls on a muddy pitch and the game ending with a frantic Rugby short corner which everyone raced back to defend successfully. Final score was 2-2 with Grace Bennett being award player of the match".
Womens 4th vs Stratford Ladies Ladies 3s (A)

Manager Andy writes "Ladies 4s put in a terrific performance against 3rd place Stratford. The team showed tremendous fight to level the game after going 1-0 down, but conceded late on to eventually lose 2-1. They can consider themselves unlucky to not have come away with at least a point." 4 games to go...