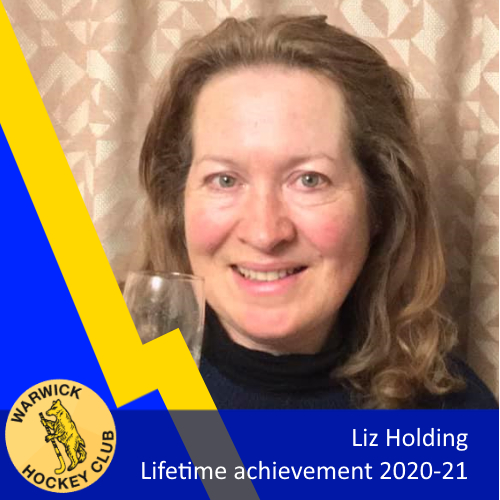 Liz Holding - Lifetime achievement 2020-21
---
At our 'Virtual 100th AGM' Nick Herd, President gave a presentation speech to Elizabeth Holding (Liz) and those present at the AGM via Zoom, thanking Phil Holding for his epic tale about Liz and to their two son's – George and Ben for their contributions too.
Liz lived in the Cotswolds for her formative years, playing for Shipton Oliffe (on grass), Cheltenham and Lansdown as she honed her skills by playing every position on the pitch. Through mutual friends in hockey, she met Phil and they moved to Wokingham, where she worked for the Environment agency for 10 years.
They joined Wokingham Hockey Club, got married and had George in October 2000. When he was two weeks old George went to watch his first hockey match and he has never looked back! Liz played for the first team, captaining and getting her name on the top scorer awards, and becoming deputy Chair of Wokingham in 2000, then full Chairperson in 2001.
In April 2002 she was 'forced' to move to Chesterton, because Phil got a job with Jaguar Cars in Coventry. George was only two at the time, but was sorely missed by his hockey-sitters at Wokingham. As soon as they were settled in the Midlands in August, Elizabeth joined Warwick HC, whilst working remotely for the Environment Agency in Bristol. Ben came along in 2005 and fitted straight into the hockey lifestyle.
Some of Elizabeth's notable achievements at Warwick Hockey Club over the past 18 years have been Sports Club Rep, Umpire Coordinator, Senior and Junior Coach, W2's Captain and Club Member of the Year, being top goal scorer year after year (regularly beating Phil, even when he could still run). She created the 'Umpire Incentive Scheme' that now works so well, put the coffee machine in the Clubhouse, helps with gardening at the Club, and she set up the Club bar rota (with the medical students).
She coaches hockey and tennis, hockey for Warwickshire DC and AC, and works for King's High School.
She has, over her 44 year hockey career, collected an array of representative honours, playing in the National Indoor Finals, for Gloucestershire, Berkshire, and most recently Midlands O50's, winning a silver medal. (Phil pointed out he won gold in the same season, but only played half the games!)
Away from hockey, she ran the London marathon on a very hot day a few years ago, has climbed Kilimanjaro, walked the Great Wall of China and done parachute and bungee jumps.
She got the whole family into Guide Dogs, six puppies raised and now 'Cooper' is staying with us as a Stud Dog. Many thanks to all those who helped look after the puppies (and initially the children) while we were on the pitch!
She has been super supportive of George's and Ben's sports endeavours over the years and encouraged them to really enjoy the game. 'She tries to come to watch all of our matches and hides or stays away from the pitch, pretending to not watch when we said we didn't want anyone watching'.
She also loves touring at hockey festivals; one of our family achievements was when Pink Panthers mixed touring team won Sonning when it was a competitive festival. She has kept a close group of hockey mates from various clubs in the past and it is great to see long-lasting friendships from the sport, and the boys very much hope to be able to recreate this.
George distinctly remembers worrying about something at school, and his mum advised him to question, "What's the worst that can happen"? This ethos of calmness, sensibility and desire to get involved and push yourself has stuck with him ever since. George recalled the above when asked by Liz to do some umpiring, even though he was pretty nervous and worried about doing it – he's glad he did it now and umpires at Uni, as well as playing for their first team and getting his colours in his first year, making Liz a very proud Mum.
But, what about the future? She is still coaching, but sadly can no longer play, due to her hip, but trying to take her talent for striking the ball into golf.
Liz has had a fantastic sporting life where she has excelled at more than one competitive sport and done lots to help keep the club thriving in the future, as well as being the 'glue' at home. She continues to be an inspiration to the younger generation to get involved and to play the game we all love and to put back something into the club, be it umpiring, admin, clearing up, or just simply turning up to socials and enjoying the company of likeminded people.
Many Congratulations on being awarded the WHC Lifetime Achievement Award for 2021 and thank you for everything you have done for Warwick Hockey Club over the last 18 years!